Field Trip - November 3rd/4th 2001
We met up in Swindon on Friday night and went straight to the scene of the first board meeting of the S&HLR, the King & Queen Public house in Highworth, where we had booked a room for the two nights. (Don't recommend the 6X, but the London Pride was OK)
Up at 8 on Saturday morning for a brief walk to where Highworth station stood, now a housing estate. Not a trace there was ever a station there, except for a replica lamp post in someone's back garden (or was it original?).
On to the Hannington site - which at first appeared unpromising, being mostly a pile of dung, covered in nettles. However, moving around the back into the trees ...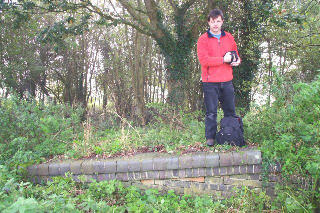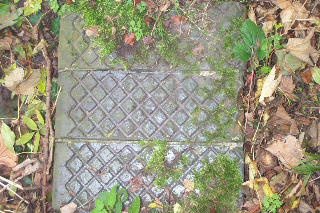 The remains of the platform and ramps at either end are now overgrown by trees. A bit of scratching around also revealed the stumps of the station sign and the rough outline of the station building.
A walk north along the tracks took us up butts bank to the edge of the housing estate at Highworth. Then it was back through Hampton village to the car. Several stone farm buildings were visible from the line in Hampton.
Next port of call was Stanton. The platform and buildings are long gone, under a 1970's style house. There were remains of gate posts and kissing gates opposite the house on the woods side where the level crossing had been.
There is a pleasant walk along the track bed here (past the "private property keep out signs") to the north end of the great wood. Several culverts, embankments and cuttings remain.
A good spot for lunch - the Freke Arms (Arkells pub) - the road to the right leads to Hannington station.
Day 2 - Vickers branch and south to Swindon
The site of Stratton Station proved to be a little harder to spot, it is now some kind of distribution yard. There is a vague indication of the old goods siding from the property boundary. The old track bed can be found to the north as a footpath through a housing estate.

Arkells brewery still in existence, probably visible from Stratton station along Ermine St.

To the south, the line starts again, and can be followed most of the way back to the main line. There is a foot bridge over the line very near where the Highworth line joins the main line.